This post is an introduction to getting spices and some tips for how to get them efficiently and at a low price.
How to get spices and why:
When you hit city level 14 you gain the ability to trade and will need to purchase Spices from Northburgh to satisfy merchant demand of spices thus increasing income. To start trading, you will need to build a pier along the coast and build a trade storehouse on the pier, you can then trade by tapping the Harbourmaster. You should know that people have had difficulty moving or even destroying piers after they are built, it seems to be impossible to do so, therefore pick a good location for them. At city lvl 18 you can upgrade your piers and Harbourmaster to extend them and have more slots on the same pier but it is more expensive to do than building a new pier. However, a new pier means more maintenance costs. The best spot for a pier is stuck to the Harbourmaster, east of it, and you can add more peers adjacent next to the first, like so: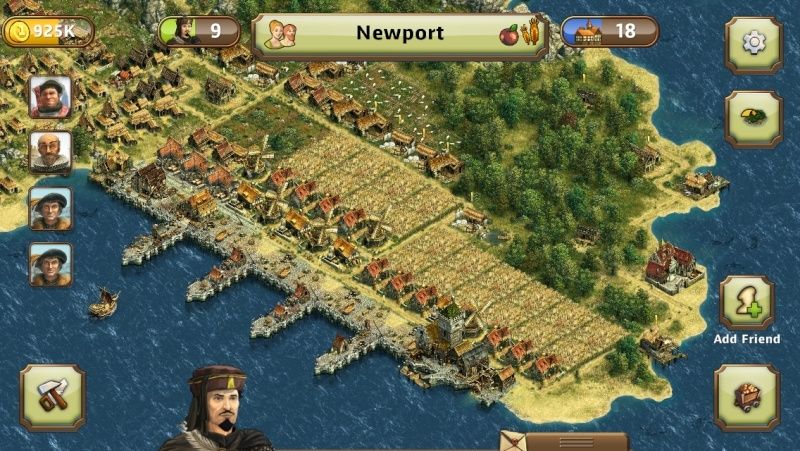 Next you'll want to start purchasing spice from Northburgh, here's what you should know:


Northburgh's prices fluctuate roughly between a low of 200 and high of 400gold per spice and they change each hour. I've heard some even lower prices but I think that's rare. No matter how many shipments it takes for your ship to complete the entire trade, you will pay one price for the entire purchase up front. A single shipment takes about an hour to complete.


Using a bigger trade ship equipped with extra cargo hold capacity will allow you to purchase larger amounts in the same amount of time, so in general, try to have the biggest ships you can whenever making purchases. That way you can free up the trade house earlier and start selling some stuff instead; only one transaction is allowed per trade storehouse at a time.

Here's a strategy to help get the spices when their price is low:
I noticed that the price follows wave cycles meaning it will gradually increase up to a maximum price and then gradually decrease down to a minimum price before reversing direction again and repeating the cycle. So whenever you're online here are the steps to follow:


Check price of spice and make a note of it. If it is a low 200, i.e. below 250 then you might as well just go ahead and make as large a purchase as you can (limited by your available money or warehouse size). If the price is a high 200 or around 300, make a note and wait. If the price is 350 or over, I would pass and wait, even if you end up running out of spice for a while.


Check back again after one hour, if the price has increased then you are catching the cycle during its inflation phase. If you will need spice soon, then purchase just enough to sustain you for a while before it increases again, or simply let your spice run out while you wait for the price to go back down. In this case, it'll be several hours before the price reaches its maximum, the cycle reverses, and finally becomes low again.

On the other hand if the price has decreased after one hour, then you've caught the cycle in its deflation phase and if you wait another hour you will almost certainly find a lower price. If you urgently need spice, I would purchase an amount for a single shipment only, then wait and purchase more when the price goes down further.

It's up to you how long you're willing to wait to find a good price and what price is good enough for you to settle. Personally, I typically buy anything below 250gold without a second thought; and anything over only if I don't have enough spice to sustain me for the next half day; and never over 350 gold. If you catch the cycle while it is going down, there's no telling when that cycle will reverse and if you wait too long the price might go back up before you know it so there's a risk. I don't think all cycles have the exact same minimum and maximum, the respective values of 200 and 400 are only rough figures based on my own and other peoples' observations that I've heard.